Laugh-In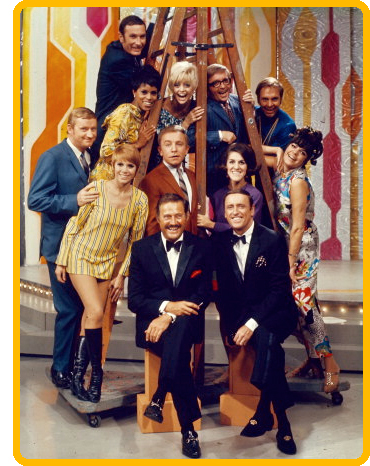 Rowan & Martin's Laugh-In was ranked #42 on TV Guide's 50 Greatest TV Shows of All Time
Rowan & Martin's Laugh-In is an American sketch comedy television program which ran for 140 episodes from January 22, 1968, to May 14, 1973. It was hosted by comedians Dan Rowan and Dick Martin and was broadcast over NBC. It originally aired as a one-time special on September 9, 1967 and was such a success that it was brought back as a series, replacing The Man from U.N.C.L.E. on Mondays at 8 pm (EST). The title of the show was a play on the "love-ins" or "be-ins" of the 1960s hippie culture, terms that were, in turn, derived from "sit-ins", common in protests associated with civil rights and anti-war demonstrations of the time.
Laugh-In had its roots in the humor of vaudeville and burlesque, but its most direct influences were from the comedy of Olsen and Johnson (specifically, their free-form Broadway revue Hellzapoppin'), the innovative television works of Ernie Kovacs, and the topical satire of That Was The Week That Was. The show was characterized by a rapid-fire series of gags and sketches, many of which conveyed sexual innuendo or were politically charged. The co-hosts continued the exasperated straight man (Rowan) and "dumb" guy (Martin) act which they had established as nightclub comics. This was a continuation of cartoonist Chic Young's "Dumb Dora", and acts from vaudeville, best popularized by Burns and Allen.
Each episode followed a somewhat similar format, often including recurring sketches. The show would start with a short dialogue between Rowan and Martin. Shortly afterward, Rowan would intone: "C'mon Dick, let's go to the party". This live-to-tape segment comprised all cast members and occasional surprise celebrities dancing before a 1960s "Mod" party backdrop, delivering one- and two-line jokes interspersed with a few bars of dance music (later adopted on The Muppet Show, which had a recurring segment that is similar to "The Cocktail Party" with absurd moments from characters). The show would then proceed through rapid-fire comedy bits, pre-taped segments, and recurring sketches.
At the end of every show, Dan Rowan turned to his co-host and said, "Say good night, Dick", to which Martin replied, "Good night, Dick!" (varying a bit from the Burns and Allen old-time radio show). The show then featured cast members opening panels in a psychedelically-painted "joke wall" and telling jokes. As the show drew to a close and the applause died, executive producer George Schlatter's solitary clapping continued even as the screen turned blank and the production logo, network chimes, and NBC logo appeared.
The cast consisted of Ruth Buzzi, Judy Carne, Henry Gibson, Larry Hovis, Arte Johnson and Jo Anne Worley were originally in the pilot special from 1967. Gary Owens (announcer), Eileen Brennan, Roddy Maude-Roxby, and Goldie Hawn came on in the show. Most of the cast members were not in all 14 episodes from the season. Only the two hosts, announcer, and Judy, Henry, and Arte were in all 14 episodes. Eileen only appears in half of the episodes. She, Larry, and Roddy left after the first season.
The second season saw a handful of new people, including Alan Sues, Dave Madden, and Chelsea Brown. All of the new cast members from the second season left at the end of that season, except Alan Sues who stayed on until 1972.