The Top DJs of the 60s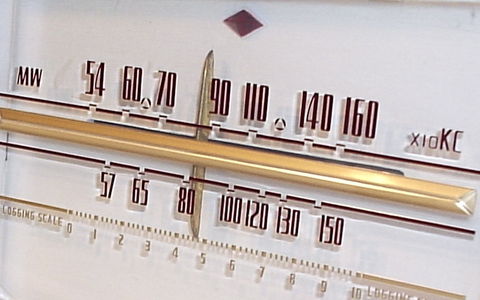 The most outstanding memory I recall about the 60s was the DJs. As far as I am concerned today's radio DJs cannot match the wit, humor and fun that these jocks brought to their broadcasts. (Perhaps I just don't get a kick out of crude humor on the air.) It was fun especially when the phone calls to the station over a promotion tied up the phone lines and teed Ma Bell off. Their format was original plus the fact the radio studio made many of the radio commercials themselves just added so much more to the program. I remember growing up in a small town in Ohio listening on my transistor radio to a small radio station WCOL located in Columbus Ohio. Until FM was added, you couldn't receive a clear broadcast of WCOL in the evening so you relied on drifted radio shows from the likes of WLS in Chicago, WHK in Cleveland, WABC of New York, and other large city broadcasts. Even though I did not live in those cities, I do remember these disc jockeys. I have included some of them here as well as the DJs I have read and have heard about. Once again if you have a DJ that needs to be recognized here please email me at
the60sofficialsite@verizon.net and let me know and I will research it and add this person. Please enjoy and feel free to make comments and suggestions in the Guestbook.
Robert W. Morgan
In 1965 Robert W. Morgan arrived in Los Angeles as the original morning "Boss Jock" at 93 KHJ. His "Good Morgan" was a signature that awakened Los Angeles everyday. If you needed help on an exam or homework , Robert W Morgan added boost with "Zap you've been Morganized." He left LA for what he thought was greener pastures but returned and entertained LA for over three decades. He was a featured DJ on the "Cruisin" series. His 1965 "Cruisin" is one of the best in the series. On May 22, 1998 he lost his fight with lung cancer.
The Boss Jocks Click Here To Order CD
Robert W. Morgan Roger Christian/Robert W. Mogan/Real Don Steele
For more information and a great bio on Robert W. Morgan visit his webpage.
Art Roberts
Art Roberts is pictured here with the Byrds while he was a DJ at WLS in Chicago.
Art was born and raised in New York City. He attended Southeastern Louisiana University, in Hammond. While attending college there he met and married Bobbi Voorhies, a New Orleans Southern Belle.
After graduation, Art and Bobbi headed across the border to Texas, where Art launched his radio career in the thriving town of Atlanta and KALT. Art and Bobbi left Atlanta, for KTBB, Tyler, then KLIF, Dallas. His radio career bloomed rapidly. They moved to WCUE, Akron, OH; WKBW, Buffalo, NY; and WLS, Chicago, IL, where they stayed for 10 years. Eventually, Art added WKQX, Chicago; WOKY and WBCS, Milwaukee, WI; KNBR and KNEW, San Francisco, CA; and KLUV, Dallas and KBUC / KXTN, San Antonio, TX to his list of success stories.

Many of the radio stations with which Art has been associated are recognized as legendary call letters in the broadcast industry. His experience has encompassed all areas of broadcasting: talent, operations, sales, station manager, and general manager. Art passed away on March 6, 2002 at the age 70 following a stroke. Click here to visit Art's website.
Johnny Holliday
Johnny Holliday is a broadcasting giant who gained national fame as a top 40 Rock 'N Roll DJ with Cleveland's WHK. He was born in Miami, Florida and began his broadcasting career in Perry, Georgia. At one time he was recognized as the number one Top Forty DJ in the nation. He was the voice of the 60s TV show Hullabaloo which aired in 1965 to 1966. Also notable is that he was announcer for the Roger Miller Show that aired on TV. Johnny also co-hosted the final Beatle concert held at Candlestick Park in San Francisco. I frequently listened to Johnny Holliday from a drifted radio signal from WHK in Cleveland while living in Circleville, Ohio and I have to say Johnny Holliday is one of my favorite DJs of all time.
For being one of the best in his trade he was featured on "Cruisin 1964" which I believe is the very best of the "Cruisin' series.
For more information on the legendary Johnny Holliday CLICK HERE.
Click Here to order his book "From Rock to Jock."
WHK Color Radio Official Fabulous 50 Tunedex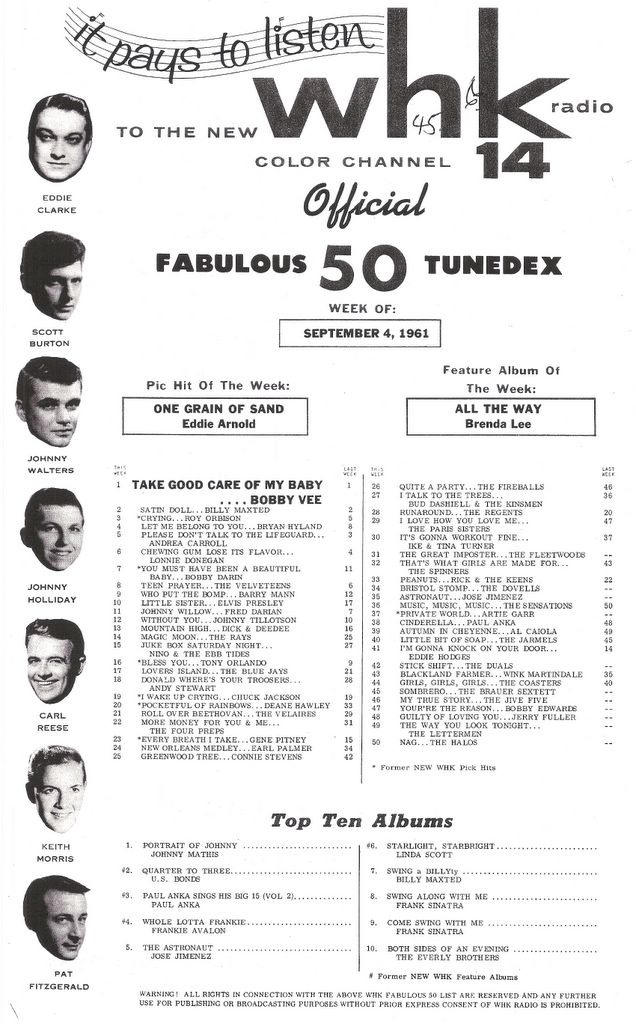 Cousin Brucie
I use to receive Cousin Brucie's broadcast in Ohio on a drifted radio signal and enjoyed his show so much that I wished that he would come to Ohio to be a DJ. I finally tied Palisades Park to New York after many years of listening to Freddy Cannon's song Palisades Park.
Bruce Morrow was born in Brooklyn on October 13, 1937, and attended New York University. Morrow adopted the moniker "Cousin Brucie" in 1959, while working at WINS/New York. He left WINS for Miami radio in 1961 before returning to WABC/New York, where he broadcast for 13 years. During his time at WABC, "Cousin Brucie" was known for hosting the famous Palisades Park rock concerts,. In August of 1965, he had the distinction of introducing the Beatles during their historic Shea Stadium concert. Footnote to Bruce Morrow is that he played the magician in the movie "Dirty Dancing." Bruce Morrow was also elected to the Radio Hall of Fame in 1988.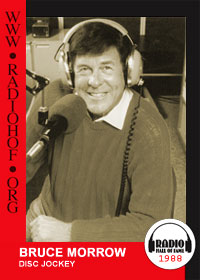 Wolfman Jack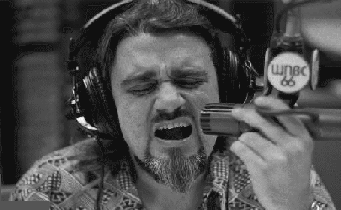 Wolfman Jack was undeniably the most hip master of ceremonies we have known. To millions of us of Rock 'N Roll radio of the 60s he spun the rhythm and blues music that many white jockeys would not play. He loved the rhythm and blues music as evident when listening to his broadcasts. Bob Smith alias Wolfman Jack grew up in one of the toughest neighborhoods in Brooklyn. His voice masked his true roots. Many teens found him while scanning their AM radio while cruising Main Street U.SA. Most of his audience never knew he was a white man. Wolfman was the master of entertainment as he broadcasted from Cuidad Acuna Mexico, a 250,000 watt AM station which on a clear night reached the entire North America continent. . His howling and grotesque broadcasts turned parents against him and just made him more popular with the teens. His fame grew upon the release of George Lucas' film"American Graffiti" where Wolfman played himself. George Lucas listened to him while he was growing up and much in the movie is the recollections of George Lucas who wrote the screenplay.
As the music changed rapidly in the 70s, Wolfman had difficulty relating to the changes but the nostalgia need from his fans kept him deep in the roots that he grew up with, the music of the 50s and 60s.
Wolfman died from a heart attack after arriving home from an appearance on promoting his book on July 1, 1995 at the age of 57. Visit Wolfman Jack's Online Museum
Dr. Don Rose
Noted radio researcher Bill Earl called him "probably the greatest air talent in the country....ever!" In a career that lasted 33 years and 28 days, Dr. Don was honored as "Disc Jockey of the Year," while both on the East Coast (WFIL, Philadelphia) and the West Coast (KFRC, San Francisco).
After four years at the University of Nebraska (he majored in accounting!) Rose worked at KOIL, Omaha; KTSA, San Antonio; and KRNY, Kearney, Nebraska, and with the same dismal result in each city; He was fired! It took several humiliating months to get another job, but Rose ended up at KWMT, Fort Dodge, Iowa, where his luck changed; He met his one and only wife Kae, and by default, inherited the morning show. ("Did you wake up grouchy, or is she still in bed?") Next Rose's career led him to Duluth, Minnesota; ("It's hard to be funny when it's 40 below.....you look outside at your car and there's a dog frozen to the wheel"). After five frigid years, he was off to Atlanta ("I said, 'Where do you do your cotton-pickin'? And the boss said 'cotton pickin' what?"). Then came six very successful years in Philadelphia; ("I spent some of my finest days in Philly. Vacations...weekends...sick leave").
All of this set Dr. Don up for the finest part of his career. In 1973 he landed the morning show at KFRC in San Francisco, and what a run it was! KFRC was voted "Station of the Year" four times by Billboard Magazine, with Rose as anchor. His morning program was #1 for a solid decade! (Reprinted from the website Radio Broadcast Legends)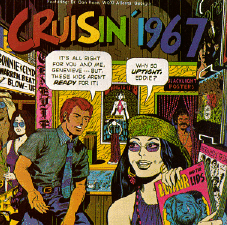 Notable credit to Dr. Don Rose is that he too was selected as one of the top DJs in the nation and therefore performed on the Cruisin' Series while a DJ at Atlanta's WQXI . Cruisin' 1967 demonstrates much of his wit and craziness. It is sad to say that he passed away March 30, 2005.
Order Cruisin' 67 Here.
Johnny Rabbitt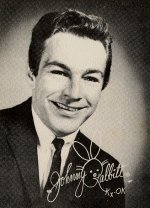 A big thanks goes to Gay Goodwin Wallin for recommending Johnny Rabbitt (Donald Pietromonaco) as one of the outstanding DJs of the 60s decade.
From 1963 -1969 Donald Pietromonaco was the personality known as Johnny Rabbitt on St. Louis' KXOK-AM 630, nicknamed as "The Fun Spot." Beginning at 7 PM teenagers tuned in to hear this award winning actor and personality. His show featured not only the Top 40 music but a mythical teenager known as Bruno J. Grunion. (actually it was Johnny Rabbitt portraying this teenager and nobody knew that). Donald Pietromonaco (Johnny Rabbitt) was also inducted into the St. Louis Radio Hall of Fame.
In later years Pietromonaco worked in film, TV and stage.
Sadly, Pietromonaco so fondly remembered as Johnny Rabbitt, passed away April 18, 1997 at age 61.