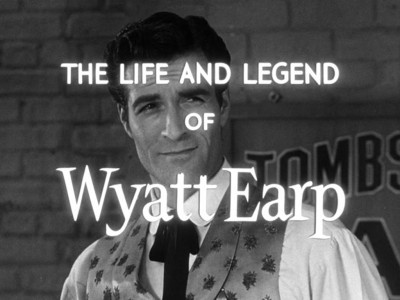 The Life and Legend of Wyatt Earp is a western television series loosely based on the adventures of frontier marshal Wyatt Earp. The half-hour black and white series ran on ABC-TV from 1955 to 1961 and featured Hugh O'Brian as Earp. An off-camera barbershop quartet sang the theme song and hummed the background music in early episodes.
O'Brian was chosen for the role due to a resemblance to early photographs of the actual Earp; James Garner later played Earp in the movies Hour of the Gun and Sunset for the same reason. On the series, Earp carried a Buntline Special, a pistol with a twelve-inch barrel, triggering a mild toy craze at the time of the series' original broadcasts. There is no credible evidence whatsoever that the real Earp ever owned such a gun, however; the myth of Earp's Buntline Special traces back to Stuart N. Lake's spurious 1931 Earp biography Frontier Marshal, purported upon publication to be based on actual interviews but later admitted by the author to be highly fictionalized.
O'Brian recreated the role of Earp in two episodes of the television series Guns of Paradise (1990), alongside Gene Barry as Bat Masterson, and again in 1991 in The Gambler Returns: The Luck of the Draw, also with Barry as Masterson. A curious independent movie called Wyatt Earp: Return to Tombstone was released in 1994 featuring new footage of O'Brian as Earp mixed with flashbacks consisting of colorized scenes from the original series. The new sequences co-starred Bruce Boxleitner, Paul Brinegar (Rawhide), Harry Carey, Jr., and Bo Hopkins.
A major actor from the silent era with a similar name was the first man to play the character in a film version of the book upon which the television series was based. George O'Brien, star of F.W. Murnau's 1927 masterpiece Sunrise, played the title role in 1934's Frontier Marshal three years after Stuart N. Lake's book first appeared. Other actors to fill Earp's boots on film include James Stewart, Henry Fonda, Kevin Costner, Randolph Scott, Joel McCrea, Richard Dix, Will Geer, Kurt Russell, and Leo Gordon.