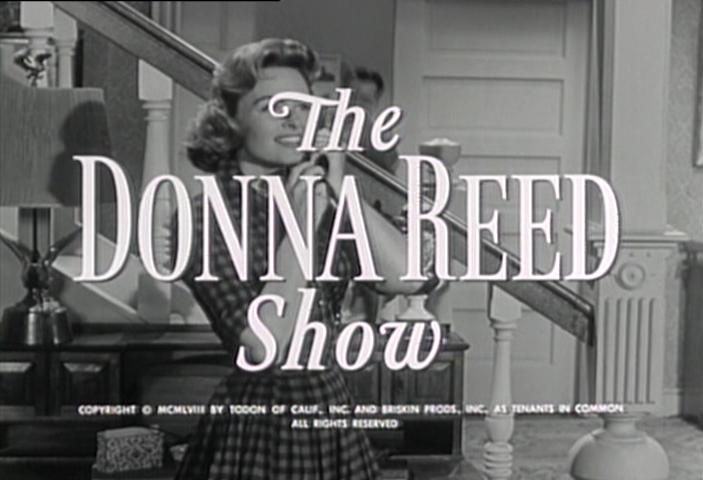 The Donna Reed Show was an American sitcom starring Donna Reed as the upper middle class housewife Donna Stone. Carl Betz appears as her pediatrician husband Alex, and Shelley Fabares and Paul Petersen as their teenage children Mary and Jeff. The show originally aired on ABC at 10 pm from September 24, 1958 to March 19, 1966. When Fabares left the show in 1964, Petersen's little sister Patty Petersen joined the cast as adopted daughter Trisha.
Bob Crane and Ann McCrea appeared in the last seasons as the Kelseys, friends of the Stones, and Darryl Richard became a near regular as Smitty, Jeff's best buddy. The show featured a variety of celebrity guests including Esther Williams as a famous dress designer, baseball superstars Don Drysdale and Willie Mays as themselves, teen heartthrob James Darren as a pop singer with the measles, canine superstar Lassie as herself, and young Jay North as Dennis the Menace.
The series was created by William Roberts and developed by Reed and her husband, producer Tony Owen. Episodes revolved around typical upper middle class family problems of the period such as firing a clumsy housekeeper, throwing a retirement bash for a colleague, and finding quality time away from the kids. Edgy themes such as women's rights and freedom of the press were occasionally explored.
The show had an uncertain start in the ratings and was almost cancelled, but fared better when it was moved from Wednesday to Thursday nights. In the show's middle seasons, Fabares sang what became a #1 teen pop hit "Johnny Angel", and Petersen had above average success with the song "My Dad", also introduced during the course of the series.
The Donna Reed Show was one of television's top 25 shows in 1963-64. Reed was repeatedly nominated for Emmy Awards between 1959 and 1962, and won a Golden Globe as Best Female TV Star in 1963. She eventually grew tired of the work-a-day grind involved in the show, and it was cancelled in 1966 after 275 episodes.
The series was sponsored by Campbell Soup Company, with Johnson & Johnson as the principal alternate sponsor (succeeded in the fall of 1963 by The Singer Company. Donna is the wife of Dr. Alex Stone, a pediatrician practicing in fictional Hilldale, and the mother of teenagers Mary and Jeff. The plot revolves around the lightweight and humorous sorts of situations and problems a middle class family experienced in the late 1950s and the early 1960s.
Donna, for example, would sometimes find herself swamped with the demands of community theatricals and charity drives; Mary had problems juggling boyfriends and finding dresses to wear to one party or another; and Jeff was often caught in situations appropriate to his age and gender such as joining a secret boys' club, avoiding love-smitten classmates, or bidding at auction on an old football uniform.
Alex was the family's Rock of Gibraltar, but often found himself in situations that tested his patience: in one episode for example, Donna volunteered him as the judge of a baby contest, and, in another episode, Mary insisted her gawky, geeky boyfriend was the spitting image of her father. Very occasionally eccentric relatives would descend on the Stones to complicate the household situation.
When Mary left for college in the middle seasons, a runaway orphan named Trisha was adopted by the family. In the last seasons, Jeff would spend much time with best buddy Smitty, and Donna and Alex would find best friends in Dave Kelsey, Alex's professional colleague, and his wife Midge. While mainly concerned with various household and family affairs, the show sometimes addressed edgier issues such as women's rights ("Just a Housewife") freedom of the press ("The Editorial") and in the final season drug addiction was seriously addressed ("The Big League Shock")