The Beatles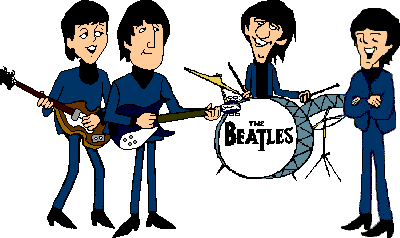 The Beatles is an American animated television series featuring the fanciful and musical misadventures of the extraordinarily popular British rock band. It ran from 1965 to 1969 on ABC in the USA.
The series consisted of short animated stories that essentially were intended to set up the visual illustration of Beatles songs that are played in their entirety. In addition, there were sing along sequences with simpler imagery complementing the full lyrics of particular songs.
The series became notorious for its static depiction of the band in their early moptop and suit look as depicted in the live action film, A Hard Day's Night, despite the fact that the band moved beyond it during the series' run.
The Beatles had nothing to do with the series' production beyond the use of their music recordings. (American actor Paul Frees did the voices of John and George while Lance Percival, of the Carry On series, did the more authentic sounding voices of Paul and Ringo.) In fact, the band disdained the series for its poor quality which discouraged them from participating significantly in the later animated feature film, Yellow Submarine. Only when the band saw and were impressed by the film's finished footage did they realize the film was a more ambitious creation. As a result, they agreed to appear in a short live action epilogue for it. Curiously, George Dunning, who would direct Yellow Submarine, had directed the animated series as well.