The Andy Griffith Show
The Andy Griffith Show was one of the top rated shows of all times. It appeared on CBS from October 1960 to September 1968 for a total of 249 episodes.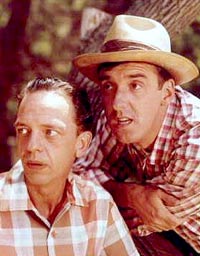 Andy Taylor was the sheriff in the small town of Mayberry where he raised his small son Opie with the help of his Aunt Bea. Most of his time was spent raising his son Opie and with his deputy Barney keeping the peace in an uneventful and crime free town. The town had its share of characters like Floyd the Barber who was taken in by the world around him and Gomer Pyle, the gas station attendant, at Wally's Service Station. Then there was Otis Campbell, the town drunk, who let himself in the low security jail every Saturday night to sleep off his intoxication. Another character whose presence made an impact on Mayberry, was Ernest T. Bass, the hillbilly, who kept throwing stones through the windows of Mayberry businesses including the court house.
Then there was Howard Sprague who was the county clerk who catered to his mother's every little wish.
Andy had several girlfriends over the years; Ellie Walker, the druggist, Mary Simpson, the county nurse, Peggy McMillan, the rich girl who Barney objected to Andy seeing and of course Opie's teacher, Helen Crump who Andy marries in the last episode.
CAST:

Sheriff Andy Taylor: Andy Griffith
Deputy Barney Fife: Don Knotts
Opie Taylor, Andy's son: Ronny Howard
Bee Taylor, Andy's aunt: Frances Bavier
Gomer Pyle, filling station attendant: Jim Nabors
Floyd Lawson, barber: Howard McNear
Ellie Walker, druggist: Elinor Donahue
Mary Simpson, nurse: Sue Anne Langdon
Julie Adams
Helen Crump, teacher: Aneta Corsaut
Thelma Lou, Barney's girlfriend: Betty Lynn
Otis Campbell, town drunk: Hal Smith
Howard Sprague, county clerk: Jack Dodson
Briscoe Darling, hillbilly: Denver Pyle
Ernest T. Bass, trouble-maker: Howard Morris
Goober Pyle, Gomer's cousin: George Lindsey
Malcolm Merriweather, Englishman: Bernard Fox
Clara Edwards: Hope Summers
Deputy Warren Ferguson: Jack Burns
Mayor Pike: Dick Elliott
Mayor Stoner: Parley Baer
Jim Lindsey, Guitar player: James Best
Emma Brand, hypochondriac: Cheerio Meredith
Sam Jones, councilman: Ken Berry
Millie Swanson, Sam's girlfriend: Arlene Golonka
Mike Jones, Sam's son: Buddy Foster
Emmet Clark, fix-it shop owner: Paul Hartman
Skippy, fun-loving girl: Joyce Jameson
Daphne, fun-loving girl: Jean Carson
Martha Clark, Emmet's wife: Mary Lansing
Leon, boy with peanut butter sandwich: Clint Howard
Johnny Paul, Opie's friend: Richard Keith
Peggy McMillan, Andy's girlfriend: Joanna Cook Moore
Mrs. Sprague, Howard's mother: Mabel Albertson
Jud Crowley: Burt Mustin
Irene Fairchild, county nurse: Nina Shipman
Lydia Crosswaithe: Josie Lloyd
Charlene Darling: Maggie Peterson
Dud Wash: Bob Denver
Gilly Walker: Larry Hovis
Various roles: Allan Melvin
Announcer: Colin Male