The Adventures of Ozzie and Harriet
The Adventures of Ozzie and Harriet show appeared on ABC for 15 years beginning October 1952 and ending September 1966. There were 435 episodes produced that followed the Nelsons day to day adventures as an average middle-class family. We all watched as their two young sons David and Ricky grew up before our eyes including getting married and their real life wives appearing on the show. We also watched Ricky Nelson sing his most current hit. His song Travelin' Man was probably the first music video ever to appear on TV.
The family lived in Hillsdale at 822 Sycamore Rd. Who knows what Ozzie's means of income was. It appeared that he was always hanging around home and never going to work or mentioning his job. The series developed around the four Nelsons and a few neighbors and friends until the boys started dating and got married.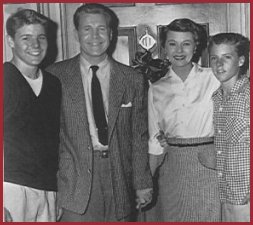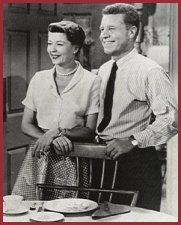 The Ozzie and Harriet Nelson Cast:

Ozzie Nelson: Himself
Harriet Hilliard Nelson: Herself
Ricky Nelson: Himself
David Nelson: Himself
Kris Nelson, Ricky's wife: Kristin Harmon Nelson
June Nelson, Dave's wife: June Blair Nelson
Mr. Thornberry, a neighbor: Don DeFore
Joe Randolph, Ozzie's friend: Lyle Talbot
Clara Randolph, Joe's wife: Mary Jane Croft
Darby, a friend: Parley Baer
Doc Williams, a friend: Frank Cady
Wally, Dave & Ricky's friend: Skip Young
Ginger, Wally's girlfriend: Charlene Salerno
Melinda, a friend: Diane Sayer
Sally, Kris's friend: Kathy Davies
Miss Edwards, Dave's secretary: Constance Harper
Dean Hopkins: Ivan Bonar
Mr. Baxter, Ozzie's friend: Frank Cady
Herb Dunkel, Ozzie's friend: Joseph Kearns
Don Kelley, Dobson's partner: Joe Flynn Ralph Dobson, Dave's employer: Francis DeSales