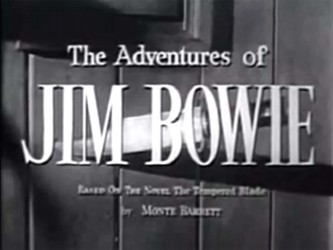 In September of 1956 a TV series named "The Adventures of Jim Bowie" was aired on ABC. The show was only on the air for two years from 1956 to 1958 and produced 76 episodes.
The series stars Scott Forbes as the real-life adventurer Jim Bowie, and was set in Louisiana in the 1830s. Story lines focused on the exploits of Bowie before he moved to Texas (then part of Mexico), and his death at the Alamo in 1836. During the series' two season run, Bowie encountered many historical figures of the era, such as President Andrew Jackson, Jefferson Davis, John James Audubon, Sam Houston, and Davy Crockett.
Among the actors and actresses who guest-starred more than once on the series were William Schallert, Denver Pyle, Michael Landon, Chuck Connors, and June Carter Cash (at that time was known as June Carter). Dayton Lummis appeared as General Rogers in the 1957 episode "The General's Disgrace".