September 1967
by David Soulsby, author of the novel "Somewhere in the Distance"
You couldn't turn on the radio in September 1967 without hearing Scott McKenzie telling you that San Francisco was the place to be, and if you made it there you were advised to have floral decorations in your hair. The sentiment summed up perfectly the Summer of Love, that innocent, freewheeling time that captured a mood so perfectly. September was always an odd time when I was in my teens, stuck as it was between the last hazy days of summer and my impending birthday in October. It was a month that invariably passed by without too much in its favour. But as I reached my early twenties that all changed, and looking back September 1967 was an interesting month, no more so than on the music front.
Scott McKenzie was certainly receiving plenty of airplay, but he wasn't hogging the limelight. There were other superb sounds all around. Among my favourites are these seven delights:
Heroes And Villains by The Beach Boys took me by complete surprise with its exploration of vocal pyrotechnics and offbeat storytelling. It was different from anything that the highly creative Californian group had done previously. After what seemed like a dip in their popularity they came back in style to hit new heights of artistic accomplishment. I loved the song as soon as I heard it on the radio and bought the 45 within a few days. I didn't know at the time that it was a song that Brian Wilson had meant to be part of the now famous 'lost' Smile album. To me, it was just a great piece of popular music, there to be enjoyed and appreciated.
The Letter by The Box Tops was one of those instantly likeable Top Ten records that had you singing along with gusto and wanting to hear more from its incredibly young lead singer Alex Chilton. He had a perfect voice for rock and belied his youthfulness with his powerful, driving delivery. It was one of those records that just called out for attention. It was a gem that sparkled brightly and after the passing years still holds its magic.
Massachusetts by The Bee Gees made me sit up and ask 'Who are these guys? Surely they must be American?'. It wasn't just because of the song title but because the whole harmony experience sounded American. So it was somewhat of a surprise at the time to learn that the group were from Australia by way of Britain. The song took off instantly and put them on the international stage as a top attraction. It's a fine testament to their brilliance. I seem to recall that it was among the first songs to be played on the newly launched BBC Radio 1 station at the back end of the month. This was the station that gave rock music a wider audience. It wasn't perfect but at the time it was a welcome innovation and an acknowledgement that rock music was something to be treated seriously.
Burning Of The Midnight Oil by the Jimi Hendrix Experience was miles ahead of much of what was then being labelled as heavy rock. Its very title suggested something sensual and mystical. We in Britain were taken with Hendrix in a big way. He had an aura about him that made it difficult to take your eyes off him. He was a brilliant musician who had talent in oodles and stood out from the crowd. Midnight Oil may not be one of his best-known songs but it ranks highly in my list of top Hendrix compositions. I remember it particularly as it was around at the time of the launch of the cult television series The Prisoner (known in America as Secret Agent). There was no connection between the song and the series only that for me they both offered an alternative to the norm. They were both a breath of fresh air.
Ode To Billy Joe by Bobby Gentry is a superb piece of narrative. The way she tells the story of tragedy and suicide, interspersed with ordinary, everyday family behaviour and interaction, shouts out class. I think it was a song that was ahead of its time. Gentry made herself at home in Britain soon after the song catapulted her to stardom and for a short period had a successful weekly television show on the BBC. I recall watching the shows at the time and enjoying Gentry's unique singing style. She tackled a wide range of songs but Ode To Billy Joe will always be the song that springs to mind whenever her name is mentioned.
British group The Tremeloes produced one of the liveliest rock tunes floating around the charts that September. Even The Bad Times Are Good had everything going for it. It had a catchy beat and the lyrics were top notch. The group are probably best known for their version of Silence Is Golden but Even The Bad Times Are Good holds its own in good company.
I Was Made To Love Her by Stevie Wonder is a classic. You just can't ignore the sheer genius of the performance. It was must play for anyone having a party. It was so infectious that you just had to get up and dance.
While reminiscing about September, it struck me that there have been some memorable songs with the month in the title. Among my favourites are Carol King's It Might As Well Rain Until September from 1962, See You In September by The Chiffons in 1966, and September In The Rain by Dinah Washington in 1961.
David Soulsby lives in Romford, Essex,
England, and is now retired after 46 years as a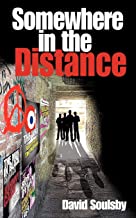 journalist. During his career, he worked on local and national newspapers and magazines, and in the Sixties met many of his musical heroes, including Johnny Cash, Bob Dylan, Roy Orbison, Sonny Boy Williamson, James Brown and Mel Torme. He's now freelancing as a writer and proof-reader, working from home. He's the author of Somewhere In The Distance, a novel about four friends growing up in the Sixties.