Recalling Roy Orbison
by David Soulsby, author of "Somewhere in the Distance"
Possessing a big voice that was blessed with a range as imposing as Texas, his home State, his songs were equally as big, grandiose and operatic in their intensity. He had a big, commanding stage presence that held audiences in his spell. Roy Orbison was indeed The Big O. There was just no one quite like him.
He's high up in my own personal Top 10 All-Time Great Rock 'n' Roll Artists, so it's nice to see that his music is still as admired today as it was in his Sixties heyday. Testament to his greatness is a newly released box set of his Monument label singles: avid fans will, of course, already have all of these classics in their music collections but for those who need an introduction to his work, this would be as good a starting point as any.
News of the box set had me digging out a cherished 1962 promo album of Orbison's Greatest Hits: it has blank white labels on both sides, but there's no doubting the owner of the voice that jumps off the vinyl. Just listening to the album again after many years sent shivers down my spine and brought back so many memories…
The really great thing about Orbison for me when I first started to listen to his records in the early Sixties was that although he looked tough in his dark clothes and trademark dark glasses, he wasn't afraid in his songs to show a soft, sensitive side. When he sang about love, he often painted a picture of vulnerability as opposed to the macho man bravado that was the image presented by so many other singers of the time. I think it was this that made him such an outstanding performer.
I was privileged in March 1966 as a young reporter to be at an Orbison concert at The Granada, Walthamstow, in east London, that showed the mark of the man's professionalism and dedication to his craft. Just a few days earlier, he'd suffered a nasty injury, breaking an ankle in a motorcycle crash, the damaged leg heavily plastered and obviously causing him `a great deal of discomfort and pain. But in the finest 'the show must go on' tradition, he went on stage, seated on a stool, and simply wowed the audience, me included. He was just so classy and in control of things, that he even stole the thunder of the support group, The Walker Brothers, who were no slouches when it came to exciting the crowds.
And backstage after the show, he was utterly charming and chatty. He let several people sign his plaster cast and even joked that having to stay seated throughout the performance was not too much of an imposition, as he didn't move very much on stage anyway! He came across as a true gentleman. I recall thinking how sad and ironic it was that just a few months later his wife Claudette died from injuries sustained in a motorcycle accident. Other tragedies dogged his life but he came through adversity with dignity and courage.
When he died in 1988 at the young age of just 52, it was great loss to the world of rock 'n' roll. If he had survived, he would have turned 75 on April 23, and I'm sure he would still be wowing the crowds today. His kind of magic is for all time.
Just as bit of trivia, I only discovered a few weeks ago while in Stratford Upon Avon, the home of William Shakespeare, that Orbison and The Bard shared not only the same birthday but also the same age when they died. It's a coincidence, of course, nothing more than that, but interesting all the same. And to add to the random weirdness of coincidence, while having a coffee in the town's Starbucks, what was one of the pieces of music playing in the background, but Orbison's version of Cyndi Lauper's I Drove All Night!
David Soulsby lives in Romford, Essex,
England, and is now retired after 46 years as a journalist. During his career, he worked on local and national newspapers and magazines, and in the Sixties met many of his musical heroes, including Johnny Cash, Bob Dylan, Roy Orbison, Sonny Boy Williamson, James Brown and Mel Torme. He's now freelancing as a writer and proof-reader, working from home. He's the author of Somewhere In The Distance, a novel about four friends growing up in the Sixties.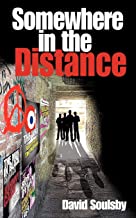 Purchase David's book "Somewhere in the Distance"