Perry Mason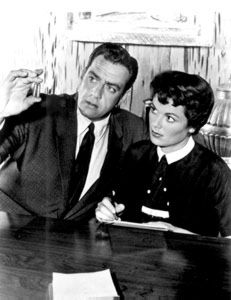 Perry Mason produced over 271 episodes for CBS. It started its run September 21, 1957 and ended September 4, 1966.
For nine seasons the famous defense attorney solved murder cases in the courtroom. Assisting him in solving those complex puzzles was his personal investigator, Paul Drake and his secretary Della Street. Paul Drake, archetypal P.I., ran the Drake Detective Agency. Tall,athleticand handsome, we never really knew his background. Perhaps if he were around today he would be pursuing his online criminal justice degree as well as chasing bad guys.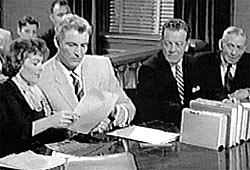 Perry seemed to put together the facts at the very last minute to solve those puzzling cases. His adversary was District Attorney Hamilton Burger, whom he would outshine each and every week. The outcome each episode was certainly predictable but nonetheless entertaining. Mason never lost a case which made DA Burger that more determined to beat Perry one time.
Perry Mason Cast:

Perry Mason: Raymond Burr
Della Street: Barbara Hale
Paul Drake: William Hopper
Hamilton Burger: William Talman
Lt. Arthur Tragg: Ray Collins
Lt. Andy Anderson: Wesley Lau
Gertie Lade: Connie Cezon
Terrence Clay: Dan Tobin
Sgt. Brice: Lee Miller
Lieutenant Steve Drumm: Richard Anderson
Judge (1957-1964): Morris Ankrum
Judge (1960-1966): Willis Bouchey
Autopsy Surgeon (1959-1966): Michael Fox
Judge (1958-1961): Richard Gaines
Judge (1959-1966): John Gallaudet
Court Clerk (1957-1958): Jack Gargan
Court Clerk (1957-1959): Jack Harris
David Gideon: Karl Held
Autopsy Surgeon (1959-1962): Pitt Herbert
Judge (1961-1965): Charles Irving
Judge (1958-1966): S. John Launer
Judge (1959-1964): Nelson Leigh
Judge (1957-1966): Kenneth MacDonald
Sergeant Ben Landro: Mort Mills
Judge (1957-1966): Grandon Rhodes
Court Clerk (1958-1962): George E. Stone
Court Clerk (1961-1965): Charles Stroud
Judge: Frank Wilcox
Margo, Drake's secretary: Paula Courtland
Drake's operator: Lyn Guild