Our Music, Our Times, Remember When?
The 1960s, Vibration of a Nation
Columbia records introduced the vinyl Lp in 1948. This 12-inch 33 1/3 RPM Lp offered more than 20 minutes of music perside and was far more durable than the 78s of the time. 78s disappeared from the scene around 1959.
RCA Victor followed with the introduction of the plastic 7-inch 45 RPM record in 1949, and the two formats, requiring record players with different speeds, competed for the next few years. Spurred by the impact of consumer confusion on record sales, the industry came together in the early 1950s around the concept of LPs for albums (collections of songs) and 45s for singles. Do you remember the 45 adaptor you had to put in the record to play your 45 on many record players?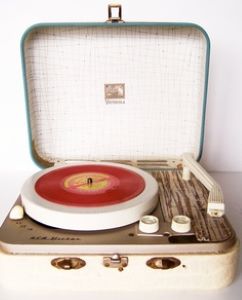 Fond memories also included having a group of your friends over to listen to your new 45 you picked up at Murphy's or any other five and dime store for about 73 cents. You put on a stack of 45s for any occasion like to rekindle memories of a past relationship, or just kicking up your feet and relaxing. Remember the 45 picture sleeves back then? Because of today's digital music most of the songs on 45 are not valuable but many records with the picture sleeve is valuable. Don't you wish you had kept more of those record sleeves?
In 1958 stereo recording technology was developed which first was just enhancement to show off systems. The true stereo sound made the recordings sound even better than mono. Still mono and stereo recordings continued to be sold. By the end of the 1960s mono had practically disappeared altogether.
In 1963 audio compact cassette tapes hit the market developed first as a dictation audio but then became popular for music.
In 1966 a rival of cassette tapes was born, the 8-track tape but the audio cassette tape was found less cumbersome and the death of the 8-track tape was forever sealed. By 1983 the production of the 8 track tape ended. I remember of not only having an 8-track player for my home but also one for my car. The tapes were so large that you didn't have enough room in the glove compartment to carry all your favorites. Do you remember that loud annoying click the player made when it changed tracks and sometimes in the middle of a song. Fond memory, huh?
As I continue to look back at the 60s I fondly remember the cruising of Main Street and playing the radio
or listening to the tapes but mostly the radio. You always had a few places you stopped by to see where everybody was hanging out. We had a teen club above the library, of course you had to make that stop. You cruised past the burger joint which we had a couple of good ones including the Burger Chef. Don't forget the town bowling alley. What was so unique about all these places was the fact they all had a jukebox. Everyone that I remember was a Seeberg as shown here. Ten cents a song or three plays for a quarter. You always remember the selection number of your favorites on all jukeboxes.
How about those transistor radios we had then? So much different than what our kids and grandkids listen to now. I remember listening to the daily countdown on our radio station each day at 3:00 on WCOL.
Do You remember the style of our radios that we had ,either next to our bed or maybe on top of the fridge? Just as it is today music was a big part of our lives and we had it everywhere we went.