Million Dollar Memories
by David Soulsby, author of the novel, "Somewhere in the Distance"
Just back from seeing the London West End version of the musical Million Dollar Quartet, based on the famous 1955 jamming session at Sun Records when Elvis Presley, Johnny Cash, Carl Perkins and Jerry Lee Lewis created great balls of fires!
Song after great song rocked the theatre and produced wave after wave of memories among an audience made up predominately of Baby Boomers. It was like being young again, transported back in time on a nostalgic trip, refreshing the parts of the brain where rock 'n' roll classics and inspirational influences from my youth reside, waiting patiently to spring out and reward me with their uplifting power.
Music has always moved me, stirred my soul, ignited my imagination, lifted me when down, and acted as a kind of filing system where meaningful moments in my life are stored. Music does indeed have a magical quality:
JERRY LEE LEWIS
Brash, loud and utterly irresistible, the unruly mop of hair flopping down his face in a wild whoosh and swirl, his hands pounding the piano mercilessly, his feet unable to stay firmly on the ground, causing his legs to jerk and kick as if he has been blasted by a bolt of electricity that has shot from under the stage. Electricity that might be generated by ol' Jerry Lee himself, such is the manic energy of his performance. That's my abiding image of the man known as The Killer, and I have that picture in my mind as I dip in to that filing system circa 1963.
It's the Star Club in Hamburg, Germany, and Jerry Lee is recording a live album backed by British blues band The Nashville Teens. The Louisiana rocker is on fire, letting everyone know that he's back on top form, just as dynamic, just as arrogant, just as mesmerising as ever. There's no one can outdo him, he's blessed with the gift of greatness.
Such is the rawness, the sheer animalism of the performance, people in the audience know they're part of something special. So special, that many music critics regard the album as the greatest-ever live album, capturing the very essence of rock 'n' roll, unleashed in all its glory.
CARL PERKINS
Those famous suede shoes were bound to be blue — what other colour would they be? Carl Perkins was surrounded by the blues as a youngster growing up in Tennessee, the music seeping into his blood, mixing with the Country and Western and bluegrass beats that gave the State a glorious musical heritage.
He put all of these influences together and made a sound that was distinctly different, instrumentally and vocally, and the effect on other musicians was considerable, notably The Beatles, who included several Perkins songs in their live acts in the early Sixties and later recorded such classics as Honey Don't and Matchbox. John Lennon was even quoted as saying that Carl Perkins was one of the very few artists whose albums he could listen to all the way through. High praise, indeed.
Now it's 1964 and Beatlemania is well and truly here, everywhere, all conquering, all pervading, all persuasive and all intoxicating. Enter Carl Perkins on tour of Britain and being knocked out at having the Liverpool Fab Four show him such reverence and respect. But that shouldn't have surprised him — John, Paul, George and Ringo were all big fans, duly acknowledging his standing as a talented and groundbreaking artist.
I recall listening to Perkins' Dance Album when I was around 12 years old, having just gotten into rock 'n' roll, and thinking if this is what the music is all about, then let's have more, more, more. And that's what happened, and I'm still hoping that there's more, more, more to come.
JOHNNY CASH
The Fabulous Johnny Cash album hit me like a thunderbolt. It's the first album I ever owned and I've still got it in my music collection after all these years. I couldn't play it enough — which was not as often as I wanted as there was only one record player in the house and my parents had dominion over that. So whenever I could, I put the revered vinyl on the turntable and transported myself way across the Atlantic to America and immersed myself in the country songs that told such vivid and emotional stories of pioneers, gunfighters and lost souls seeking redemption. It was like a history lesson in how the American West was born, developed and prospered. In many ways it was more striking and real to me than many of the Westerns movies I loved watching as a youngster! And all the better for being sung by a man with such a unique, charismatic voice.
So let's go back to May 1966. I'm a young reporter on a local newspaper in east London and often review music concerts held at the Walthamstow Granada. I'm due to see Johnny Cash there, along with June Carter and The Carter Family, and The Statler Brothers. That's it — just enjoy the concert and write my review. But fate has other plans!
With my fiancée, I'm at the theatre early, seated and just chatting and watching the audience slowly fill the rows in the balcony, wondering if they're as excited as me at what the night promises. Will the giant of a man from Arkansas be as great as anticipated?
Just then, a theatre usher leans over and asks if I'm David Soulsby. Yes, I am, I reply, wondering if I'm in the wrong seats or, worse, fearing something terrible has happened! Would I come down to the booking office where there are some people who want to meet me. Leaving my fiancée, telling her I won't be long, I head for the foyer.
Five guys dressed in Country and Western outfits greet me, introduce themselves, tell me about their band, and thank me for arranging for them to meet Johnny Cash! What can I say? I'm taken aback. I know nothing about the visit. Apparently, the mother of one of the guys works in the administration office at my newspaper and has arranged with my news editor boss to get the boys backstage and meet The Man In Black. But the message hasn't got through to me. However, I don't allow myself to panic. Luckily, I know the theatre manager, seek him out and explain my predicament. No problem, he says, follow me, and off we all head for the back stage door and the dressings rooms where Johnny Cash and his entourage are waiting.
So there I am, having to introduce five guys I didn't know existed 10 minutes ago to the Arkansas legend and acting as if it's all in a day's work for me. But I needn't have worried. Johnny Cash was every inch a star, charming, considerate, attentive, chatting, making you feel at home and at ease.
So that's how I met him. Certainly not planned, but unforgettable and a cherished memory for me. Strange how, to paraphrase a Cash song, things happen that way!
ELVIS PRESLEY
A hurricane whirling through the music business in the Fifties, the man who put rock 'n roll on a high plateau, changed popular music for ever and set the standards for those in his wake. Sadly, most of the Sixties for him was more like a warm breeze wafting along in poor-quality movies and, with a few exceptions, ordinary, run-of-the-mill records.
So, let's quickly move on to the back end of 1968 and Elvis' Comeback Special on TV. What a turnaround! He's a revelation, great in black leather, looking as fit and strikingly good-looking as he was when he first found fame.
It's the Elvis of old. The Elvis I remember from my early teens. The man in musical terms as mighty as the Mississippi river, the singer who made it OK for a teenager like me to dress in colourful shirts and jackets, grease my hair and try to look cool! I don't think I quite pulled it off, but it wasn't for the want of trying.
David Soulsby lives in Romford, Essex,
England, and is now retired after 46 years as a journalist. During his career, he worked on local and national newspapers and magazines, and in the Sixties met many of his musical heroes, including Johnny Cash, Bob Dylan, Roy Orbison, Sonny Boy Williamson, James Brown and Mel Torme. He's now freelancing as a writer and proof-reader, working from home. He's the author of Somewhere In The Distance, a novel about four friends growing up in the Sixties.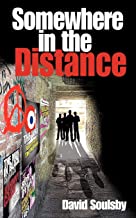 Purchase David's book "Somewhere in the Distance"