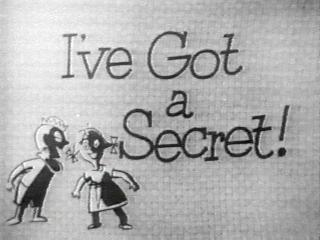 I've Got a Secret is a weekly panel game show produced by Mark Goodson and Bill Todman for CBS television. Created by comedy writers Allan Sherman and Howard Merrill, it was a derivative of Goodson-Todman's own panel show What's My Line?. Instead of celebrity panelists trying to determine a contestant's occupation, the panel tries to determine a contestant's "secret": something that is unusual, amazing, embarrassing, or humorous about that person.
The original version of I've Got a Secret premiered on June 19, 1952 and ran until April 3, 1967. This version began broadcasting in black and white and switched to a color format in 1966, by which time virtually all commercial network programs were being shown in color.
The show was revived for the 1972-1973 season in once-a-week syndication and again from June 15 to July 6, 1976, for a Summer run. Another production ran on the Oxygen cable channel in a daily version, with original episodes airing from 2000 through 2003. GSN ran a revival from April 17 to June 9, 2006 with an all-gay panel. In October 2006, GSN opted not to renew the show for a second season, although reruns remained on its schedule for some time afterward.
The show was originally hosted by radio and television personality Garry Moore. After several months of an ever-changing panel, the show settled down to include game show host Bill Cullen, acerbic comedian Henry Morgan, TV hostess Faye Emerson, and actress Jayne Meadows. In 1958, Emerson left the show to star in a play and was replaced by actress Betsy Palmer. The following year, Meadows moved to the West Coast to live with her husband Steve Allen and was replaced by former Miss America Bess Myerson. At various times, guest hosts substituted for Moore, including panelists Morgan and Palmer, among others. Additionally, other comedians and celebrities appeared as guests on the panel when others were away.
Garry Moore left the show after the 1963-64 season, after his comedy program The Garry Moore Show was canceled, and he decided to retire from television to journey around the world with his wife Moore was replaced by Steve Allen on September 21, 1964. Allen also hosted the show during the 1972-1973 revival. Former panelist Bill Cullen hosted the show for its brief 1976 CBS summer run. The panelists on this revival were Richard Dawson, Henry Morgan, New York-based entertainment critic Pat Collins, and Elaine Joyce.
The Oxygen channel version of the show was hosted by Stephanie Miller until August 2001. Regular panelists in the Oxygen version included Jim J. Bullock, Jason Kravits, Amy Yasbeck, and Teri Garr.
The GSN version was hosted by Bil Dwyer and unlike the earlier versions, featured a permanent panel that appeared in every episode; the panelists were Billy Bean, Frank DeCaro, Jermaine Taylor, and Suzanne Westenhoefer.
Each typical episode featured two regular contestant rounds, followed by a celebrity guest round, occasionally followed by an additional regular round.
Each round was a guessing game where the panel tried to determine a contestant's "secret". The concept of a "secret" was fairly wide reaching. Secrets were always intended to be unusual, amazing, embarrassing or humorous. They commonly included such types as something which happened to a person, owning something, or an occupation, hobby, achievement or skill.
One or more contestants would enter. The host would introduce the contestant or ask their name and hometown. He would then ask them to "whisper your secret to me, and we'll show it to the folks at home." The contestant would then ostensibly whisper their secret to the host, while the audience and viewers were shown the secret via text overlay on the screen. Then the host would give the panel a clue, for example, "the secret concerns something that happened to [Contestant's Name]." The host would then select a panelist to begin questioning.
When the show debuted, each panelist had 15 seconds of questioning at a time, running through the panel twice, in order. Each segment of questioning which passed without the panelist guessing the secret won the contestant $10, for a top prize of $80. In mid-1954, the format changed to only once around the panel, with a $20 prize for each panelist stumped. The time limit was no longer fixed, and the buzzer which ended questioning was instead at the discretion of the production staff. This was due, in part, to the program airing live, and sometimes requiring to lengthen or shorten the time allowed for questioning in order to keep the show running on time. Increasingly later in the run, the panelists were sometimes buzzed out when they were getting too close to the secret, were suspected to be about to get it, or simply at a point that would get a laugh; this was precipitated in part by the fact that, like What's My Line, the top payoff never increased with inflation, and the money eventually became somewhat secondary to the gameplay, with the cash awards not even mentioned at all by the end of the series. Similarly, the panelist chosen to question first eventually became a strategy by the producers. When a secret fell within an area that a panelist was knowledgeable on (most commonly Cullen with mechanical, scientific or sports secrets), they would often be chosen first, to give them no preceding clues during their questioning. On occasion when a secret referenced a panelist, the order was usually chosen to put them last.
Following the revelation of a guest's secret, either by guessing or by the host's revelation once the game was over, the host typically either interviewed the contestant about their secret, or, if applicable, the contestant did some kind of demonstration of their secret. These demonstrations sometimes included the host, and occasionally one or more of the panelists.
A number of notable people appeared with secrets including Col Harland Sanders ("I started my restaurant with my first Social Security check"), Philo T. Farnsworth ("I invented electronic television"), Pete Best ("I used to be one of The Beatles"), and an elderly man Samuel Seymour who was the last surviving eye witness to Abraham Lincoln's assassination (he was five years old at the time).