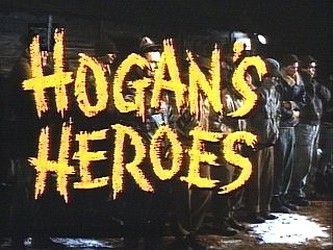 Hogan's Heroes was an American classic TV show that produced 168 episodes and aired on CBS from September 17, 1965 to March 28, 1971. The show was set in a German prisoner of war (POW) camp during the Second World War. Bob Crane had the starring role as Colonel Robert E. Hogan, who coordinated an international crew of Allied prisoners running a Special Operations group from the camp. The program also featured Werner Klemperer as Colonel Wilhelm Klink, the commandant of the camp, and John Banner as the inept sergeant-of-the-guard, Schultz.
The setting was a fictional version of Stalag 13 (Camp 13 in early episodes), a POW camp for captured Allied airmen located north of the town of Hammelburg in the Bad Kissingen woods and run by the Luftwaffe. Its location was on the Hammelburg Road (now known as E45), on the way to Hofburgstraße and eventually Düsseldorf. One episode mentions they are 106 kilometres (66 mi) from Heidelberg, but that measurement is actually aviation miles; it would have taken 199 km (124 mi) by car. It has 103 prisoners during the first season, but it appears to have grown signifigantly by the end of the show.
Stalag 13 bore no resemblance to its real-life counterparts, Oflag XIII-B and Stalag XIII-C, which were prison camps for Allied ground troops. It had rather more similarities to the real-life Stalag Luft III, which was the scene of a famous mass prisoner escape involving an elaborate tunnel system. The show's premise was that the POWs were actually active war participants, using the camp as a base of operations for Allied espionage and sabotage against the Germans or the German Armed Forces. The prisoners could leave and return almost at will via a secret network of tunnels and had radio contact with Allied command. They were aided by the incompetence of the camp commandant, Colonel Klink, and the rather more complex motivations of Sergeant of The Guard Sergeant Schultz.
Colonel Hogan would routinely manipulate the incompetent Klink and get Schultz to look the other way while Hogan's men conducted secret operations. Klink and Schultz were in constant terror of being transferred to the Russian Front, and Hogan took pains to keep the hapless German duo firmly in place. Schultz was quite aware that the prisoners were carrying out some sort of mischief, but deliberately ignored it in order to maintain the status quo.
Klink had a perfect record of no escapes while he commanded the camp. Hogan actually assisted in maintaining this record, and made sure any prisoners who needed to be spirited away had been transferred to someone else's authority before their escape was enacted or replacements were provided to maintain the illusion that no one had escaped.
Prominent Series Cast
Bob Crane ... Col. Robert E. Hogan
Werner Klemperer ... Col. Wilhelm Klink
John Banner ... SGT. Hans Georg Schultz
Robert Clary ... Cpl. Louis LeBeau
Richard Dawson ... Cpl. Peter Newkirk
Larry Hovis ... Sgt. Andrew Carter
Ivan Dixon ... Sgt. James 'Kinch' Kinchloe
Leon Askin ... General der Infanterie Albert Burkhalter
Sigrid Valdis ... Hilda
Howard Caine ... Maj. Wolfgang Hochstetter
Kenneth Washington Sgt. Richard Baker
Cynthia Lynn ... Helga
Dave Morick ... Corporal Sontag