Highway Patrol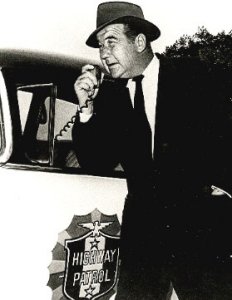 Highway Patrol is a syndicated action crime drama series that aired from 1955-1959. The series was syndicated by Ziv TV.
It starred Broderick Crawford as Dan Mathews, the gruff and dedicated head of a police force in a large, unidentified Western state. A signature shot of the series was fedora-wearing Mathews barking "10-4!" and other rapid-fire dialogue into a radio-microphone as he leaned against the door of his patrol car (call sign ID# "2150"). There were no other regular cast members. William Boyett, later behind the badge again as Sgt. MacDonald in Adam-12, made numerous appearances as Sgt. Ken Williams and Officer Johnson. Art Gilmore, who played Lieutenant (later Captain) Moore on Adam-12, was the narrator. Ron Foster appeared twenty-four times on the series, mostly in the role of young Officer Garvey. Future movie and TV star Stuart Whitman appeared in 13 episodes as Sergeant Walters. Other actors making multiple appearances include Guy Williams (Zorro, Lost in Space), Leonard Nimoy, (Star Trek), Kirk Alyn (Superman in movie serials) and Ed Nelson (Peyton Place). Star Trek creator Gene Roddenberry is credited with writing five episodes under the pseudonym "Robert Wesley". Future producer Quinn Martin (The Untouchables, The Fugitive, Barnaby Jones, The FBI, The Streets of San Francisco) served as sound supervisor.
In the early seasons the series was provided with technical assistance by the California Highway Patrol. The Buick, Oldsmobile, Dodge and Mercury sedans used in the show as patrol cars were designed to resemble the then-current CHP fleet in both paint scheme and door insignias.
It was also famous for its location shooting - in rural and desert areas of southern California - in the still very studio-bound early years of television (it was produced from 1955-1959), and like most Ziv series, had its repeats syndicated for many years afterward. The rights to all 156 episodes are currently held by MGM Television and air on This TV.
The series was also unusual for opening from the point-of-view of the criminals (a la the movie Bonnie and Clyde), giving the viewer the vicarious sensation of sharing in the guilt and being systematically hunted down by the police. Episodes usually concluded with an ironic comment on the crime or criminal by Mathews, followed by a closing acerbic comment on highway safety.
When asked why the show ended after four seasons, Broderick Crawford said, "We ran out of crimes."