Get Smart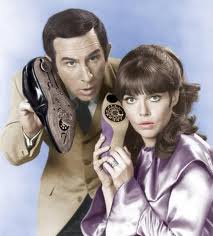 Get Smart! is an American television comedy series that satirizes the secret agent genre. Created by Mel Brooks with Buck Henry, the show starred Don Adams as Maxwell Smart, Agent 86, Barbara Feldon as Agent 99, and Edward Platt as the Chief of CONTROL, a secret American government counter-espionage agency. Henry said the creation of this show came from a request by Daniel Melnick, who was a partner, along with Leonard B. Stern and David Susskind, of the show's production company, Talent Associates, to capitalize on "the two biggest things in the entertainment world today"—James Bond and Inspector Clouseau. Brooks said: "It's an insane combination of James Bond and Mel Brooks comedy."
The series was broadcast on NBC-TV from September 18, 1965, to April 12, 1969, after which it moved to CBS-TV for its final season, running from September 26, 1969, to September 11, 1970. 138 episodes were produced. The series won seven Emmy Awards, and it was nominated for another fourteen Emmys, as well as two Golden Globe Awards. In 1995, the series was briefly restarted, starring Adams and Feldon, with Andy Dick as Max's and 99's son.
The series centered on bungling secret agent Maxwell Smart (Don Adams), also known as Agent 86. His experienced partner is young Agent 99 (Barbara Feldon), whose real name is never revealed in the series. Agents 86 and 99 work for CONTROL, a secret U.S. government counter-intelligence agency based in Washington, D.C. (at 123 Main Street, a fictional address). The pair investigates and thwarts various threats to the world, though Smart's incompetence invariably causes complications. However, Smart never fails to save the day, typically thanks to his own dumb luck and often by 99's skills. Looking on is the long-suffering head of CONTROL, who is addressed simply as "Chief" (played by Edward Platt).
The nemesis of CONTROL is KAOS, described as "an international organization of evil." KAOS was supposedly formed in Bucharest, Romania, in 1904. Neither CONTROL nor KAOS is an acronym.
In the movie The Nude Bomb the organization Agent 86 worked for is named PITS, standing for Provisional Intelligence Tactical Service.
The enemies, world-takeover plots and gadgets seen in Get Smart parody the James Bond movies. "Do what they did except just stretch it half an inch," Mel Brooks said of the methods of this TV series.
In a 2010 issue of TV Guide, Get Smart's opening title sequence ranked #2 on a list of TV's top 10 credits sequences, as selected by readers