Gary Puckett & The Union Gap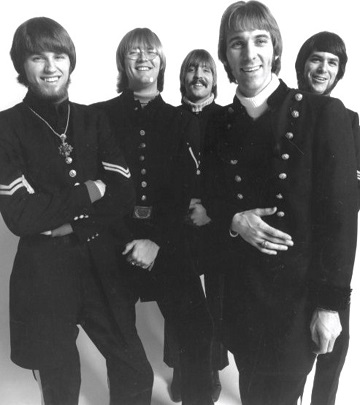 Gary Puckett had one of the best baritone voices in the industry. Gary Puckett was born in Hibbing, Minnesota October 17, 1942 and grew up in Yakima, Washington which was near the small town of Union Gap. Puckett began playing the guitar while in his teens and graduated from Twin Falls High School and then attended college in San Diego, California. He dropped and joined a hard rock group called the Outcasts that comprising of bassist Kerry Chater keyboardist Gary 'Mutha' Withem, tenor saxophonist Dwight Bement, and drummer Paul Wheatbread .
Without Wheatbread, who was recruited as the drummer for the TV show "Where the Action Is," the group toured the Northwest. Later Wheatbread re-joined the group. Under manager Dick Badger the group was renamed The Union Gap in early 1967 and began wearing Civil War style uniforms for their performances. Jerry Fuller, song writer and and CBS Record producer signed them to a record deal after hearing their impressive demo.
The band recorded their first hit "Woman Woman" in 1967 and became their first hit which peaked at #4 on the Billboard Charts. This was followed during the next two years by "Young Girl" (#2), "Lady Willpower" (#2), "Over You" (#7), and "Don't Give In To Him" (#15). All were produced by Fuller, who also wrote "Young Girl", "Lady Willpower" and "Over You". Although the band never had a #1 record in the United States, "Young Girl" reached #1 on the UK singles chart, and #6 when it was reissued in the UK six years later. Controversial at the time and later for its risqué lyrical references to underage romance - "My love for you is way out of line/ You better run, girl, you're much too young, girl" - it was dramatically delivered by Puckett with a memorable strings and brass arrangement, similar to Phil Spector's arrangements for the Righteous Brothers. "Young Girl" was the second million selling disc for the band, which it reached less than two months after issue; "Lady Willpower" and "Over You" also won gold discs. The band headlined at a White House reception for Prince Charles and at Disneyland in 1968, and were nominated for a Grammy Award for Best New Artist in 1969, losing out to José Feliciano.

However, the band wanted to write and produce their own material, and Puckett resented singing the power ballads written by Fuller. In 1969, Fuller prepared a 40-piece studio orchestra to record a new song he had written, but Puckett and the group refused to record it, the session was canceled, and Fuller never again worked with the group. The band returned to the charts with "This Girl Is a Woman Now," produced by Dick Glasser, but later releases failed to make the Billboard Top 40. Chater and Withem left the band; Bement took over on bass guitar and keyboardist Barry McCoy and horn player Richard Gabriel were added. In 1970, Puckett began recording as a solo act, but with limited success; the Union Gap remained his live backing band, until they were dismissed following an appearance at the 1971 Orange County Fair. Puckett's recording contract was terminated one year later.