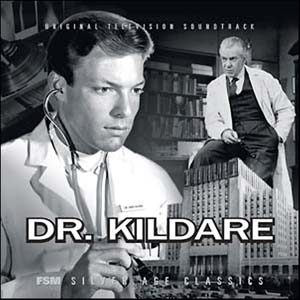 Dr. James Kildare is the primary character in a series of American theatrical films in the late 1930s and early 1940s, an early 1950s radio series, a 1960s television series of the same name and a comic book based on the TV show, and a short-lived 1970s television series. The character was created by the author Frederick Schiller Faust, under the pen name Max Brand.
The character begins the film series as a medical intern; after becoming a doctor, he is mentored by an older physician, Dr. Leonard Gillespie. After the first ten films, the series eliminated the character of Kildare and focused instead on Gillespie. Lew Ayres, who had played the young doctor beginning in the second movie, was a conscientious objector and then a Medical Corpsman serving during World War II. He was replaced in the series by Van Johnson and Keye Luke, portraying young interns. Previously, Luke had become well known as Number One Son in the Fox Film Corporation Charlie Chan series, and he later became known for the role of Master Po in the TV series Kung Fu.
Dr. Kildare is an NBC medical drama television series which ran from September 27, 1961 until April 5, 1966 encompassing a total of 190 episodes. The show, which premiered at the same time as an ABC medical drama, Ben Casey, quickly achieved success and helped spark a number of new shows dealing with the medical field.
Kildare told the story of a young intern, Dr. James Kildare (Richard Chamberlain), working in a fictional large metropolitan hospital (Blair General) while trying to learn his profession, dealing with the problems of the patients, and winning the respect of the senior doctor, Dr. Leonard Gillespie (Raymond Massey). The show aired on NBC Thursday at 8:30-9:30 PM on NBC: September 28, 1961—May 13, 1965 and Monday & Tuesday at 8:30-9:00 PM on NBC: September 13, 1965—April 5, 1966.
In the series' first episode, Gillespie tells the earnest Kildare, "Our job is to keep people alive, not to tell them how to live." Kildare ignores the advice, which provides the basis for stories over the next four seasons, many with a soap opera touch. The series was largely responsible for making Chamberlain, who beat 35 other contenders for the role, a teen idol in the 1960s. He also recorded a song, "Three Stars Will Shine Tonight," with the music from the show's familiar opening theme. In 2006 Chamberlain reprised the role in a parody of Grey's Anatomy (along with other famous TV doctors from Julia, St. Elsewhere, M*A*S*H and The Love Boat) on the 2006 TV Land Awards.
A second television series, titled Young Dr. Kildare, premiered in first-run syndication in 1972. Starring Mark Jenkins as Dr. Kildare and Gary Merrill as Dr. Gillespie, it lasted for only one season of 24 episodes.