Connie Francis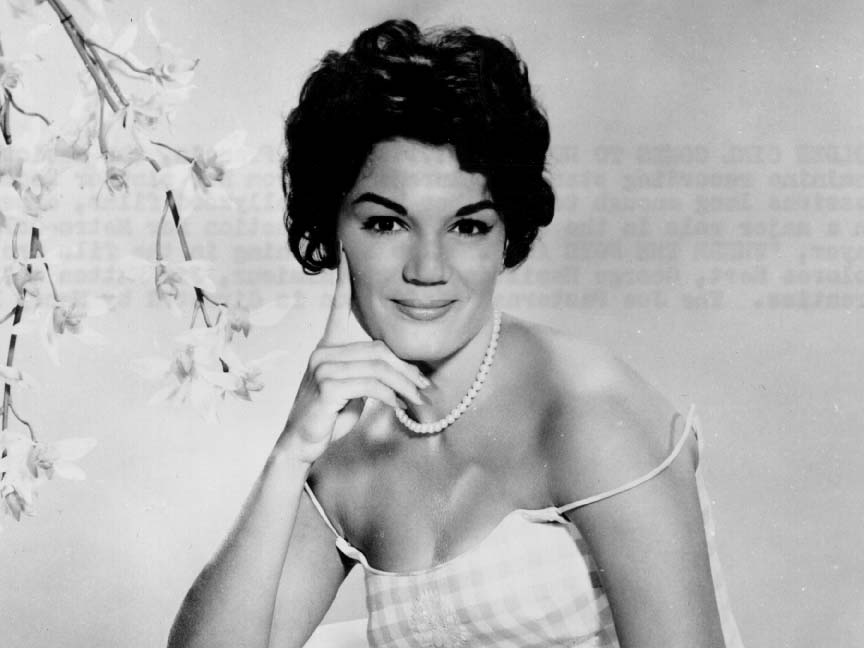 Connie Francis who was born Concetta Rosa Maria Franconero on December 12, 1937, is an Italian-American pop singer and top-charting female vocalist of the late 1950s and early 1960s. Although her chart success waned in the second half of the 1960s, Francis remained a top concert draw. Despite several severe interruptions in her career, she is still active as a recording and performing artist. Her career was filled with many episodes of tragedy but she bravely endured it all.
Growing up in an Italian-Jewish neighborhood, Francis became fluent in Yiddish, which would lead her to later record songs in Yiddish and Hebrew.
In her autobiography Who's Sorry Now?, published in 1984, Francis recalls that she was encouraged by her father to appear regularly at talent contests, pageants, and other neighborhood festivities from the age of four as a singer and accordion player.
Francis attended Newark Arts High School in 1951 and 1952. She and her family moved to Belleville, New Jersey, where Francis graduated as salutatorian from Belleville High School Class of 1955.
During this time, Francis continued to perform at neighborhood festivities and talent shows (some of which were broadcast on television), appearing alternately as Concetta Franconero and Connie Franconero. Under the latter name, she also appeared on NBC's variety show Startime Kids between 1953 and 1955.
During the rehearsals for her appearance on Arthur Godfrey's Talent Scouts, Francis was advised by Godfrey to change her stage name to Connie Francis for the sake of easier pronunciation. Godfrey also told her to drop the accordion – advice she gladly followed, as she had begun to hate the large and heavy instrument. Around the same time, Francis took a job as a singer on demonstration records, which were brought to the attention of established singers and/or their management who would subsequently choose or decline to record the song for a professional commercial record.
In 1955, Startime Kids went off the air. In May that same year, George Franconero Sr. and Francis' manager George Scheck raised money for a recording session of four songs which they hoped to sell to a major record company under Francis' own name. The story goes that every record label they tried turned her down, mainly because, as a demo singer, Francis could copy other popular singers of the day like Kitty Kallen or Kay Starr, but had not yet developed a distinctive sound of her own.
Finally, even when MGM Records decided to sign a contract with her, it was basically because one track she had recorded, "Freddy", happened to be the name of the son of a company co-executive, Harry A. Myerson, who thought of this song as a nice birthday gift. Hence, "Freddy" was released as Francis' first single, which turned out to be a commercial failure, just as her following eight solo singles were.
Despite these failures, Francis was hired to record the vocals for Tuesday Weld's "singing" scenes in the 1956 movie Rock, Rock, Rock, and for Freda Holloway in the 1957 Warner Brothers rock and roll movie Jamboree.
In the fall of 1957, Francis enjoyed her first chart success with a duet single she had recorded with Marvin Rainwater: "The Majesty of Love", backed with "You, My Darlin' You", peaked at number 93 on Billboard's Hot 100. Eventually, the single sold over one million copies.
Francis considered a career in medicine and was about to accept a four-year scholarship offered at New York University. At what was to have been her final recording session for MGM on October 2, 1957, she recorded a cover version of the 1923 song "Who's Sorry Now?", written by Bert Kalmar and Harry Ruby. Francis has said that she recorded it at the insistence of her father, who was convinced it stood a chance of becoming a hit because it was a song adults already knew and that teenagers would dance to if it had a contemporary arrangement.
Francis, who did not like the song and had been arguing about it with her father heatedly, delayed the recording of the three other songs during the session so much, that in her opinion, no time was left on the continuously running recording tape. Her father insisted, though, and when the recording "Who's Sorry Now?" was finished, only a few seconds were left on the tape.
The single seemed to go unnoticed like all previous releases, just as Francis had predicted, but on January 1, 1958, it debuted on Dick Clark's American Bandstand, and on February 15 of that same year, Francis performed it on the first episode of The Saturday Night Beechnut Show, also hosted by Clark. By mid-year, over a million copies had been sold, and Francis was suddenly launched into worldwide stardom. In April 1958, "Who's Sorry Now" reached number 1 on the UK Singles Chart and number 4 in the US. For the next four years, Francis was voted the "Best Female Vocalist" by American Bandstand viewers.
As Connie Francis explains at each of her concerts, she began searching for a new hit immediately after the success of "Who's Sorry Now?", since MGM Records had renewed her contract. After the relative failure of the follow-up singles "I'm Sorry I Made You Cry" (which stalled at No. 36) and "Heartaches" (failing to chart at all), Francis met Neil Sedaka and Howard Greenfield, who sang a number of ballads they had written for her. After a few hours, Francis began writing in her diary while the songwriters played the last of their ballads. Afterwards, Francis told them that she considered their ballads too intellectual and sophisticated for the young generation and requested a more lively song. Greenfield urged Sedaka to sing a song they had written that morning with the Shepherd Sisters in mind. Sedaka protested that Francis would be insulted, but Greenfield said that since she hated all the other songs they had performed, they had nothing to lose. Sedaka then played "Stupid Cupid." When he finished, Francis announced that he had just played her new hit song. It went on to reach number 14 on the Billboard chart and was her second number 1 in the UK.
The success of "Stupid Cupid" restored momentum to Francis' chart career, and she reached the U.S. top 40 an additional seven times during the remainder of the 1950s. She managed to churn out more hits by covering several older songs, such as "My Happiness" (number 2 on the Hot 100) and "Among My Souvenirs" (number 7), as well as performing her own original songs. In 1959, she gained two gold records for a double-sided hit: on the A-side, "Lipstick on Your Collar" (number 5), and on the B-side, "Frankie" (number 9).
Francis continued to record singles aimed at the youth-oriented market. Among her top-ten hits on the Hot 100 were "Breakin' in a Brand New Broken Heart" (1961, number 7), "When the Boy in Your Arms (Is the Boy in Your Heart)" (1961, number 10), "Second Hand Love" (1962, number 9), and "Where the Boys Are" (1961, number 4). The last became her signature tune and was also the theme song of Francis' first motion picture of the same name. The movie also introduced the concept of spring break, as the once sleepy town of Fort Lauderdale became the hotspot for college students on their spring vacation in the wake of the movie's success. Although she appeared in three further motion pictures, Francis was never satisfied with herself as an actress, and after appearing in a made-for-television movie in 1966, she declined further offers.
The success of "Connie Francis Sings Italian Favorites" in late 1959/early 1960 led Francis to become one of the first American artists to record in other languages regularly. She was to be followed by other major British and American recording stars including Wanda Jackson, Cliff Richard, Petula Clark, Brenda Lee, the Supremes, Peggy March, Pat Boone, Lesley Gore, the Beatles and Johnny Cash, among many others. In her autobiography, Francis mentioned that in the early years of her career, the language barrier in certain European countries made it difficult for her songs to get airplay, especially in Germany.
Francis used these reflections as the basis for her April 1960 recording, "Everybody's Somebody's Fool." Although this single became her first number 1 on the US charts (immediately followed by her second number 1, "My Heart Has a Mind of Its Own"), and its B-side "Jealous of you (Tango della Gelosia)" became a huge hit in Italy, it failed to make any impression on the German charts.
Veteran lyricist Ralph Maria Siegel penned a set of German lyrics, named "Die Liebe ist ein seltsames Spiel", which, after some friction between Francis and her MGM executives, was recorded and released. The song peaked at number 1 in Germany for two weeks, as it did in many other countries, and Francis had six more number 1 hits on the German charts.
Contrary to popular belief, Francis did not record any further foreign-language versions of "Everybody's Somebody's Fool." The German version is the only one recorded by herself, although other artists recorded further cover versions in various languages such as Portuguese, Swedish and Finnish.
It was not until her number 7 on the US charts, "Many Tears Ago," later in 1960 when Francis began to record cover versions of her own songs in foreign languages besides German. Over the following years, she eventually expanded her recording portfolio up to 15 languages.
After her modest success with "(Should I) Tie a Yellow Ribbon Round the Old Oak Tree?" Francis began performing regularly again. While appearing at the Westbury Music Fair in New York, on November 8, 1974, Francis was raped at the Jericho Turnpike Howard Johnson's Lodge in Jericho, New York, and nearly suffocated to death under the weight of a heavy mattress the culprit had thrown upon her. She subsequently sued the motel chain for failing to provide adequate security and reportedly won a $2.5 million judgment, at the time one of the largest such judgments in history, leading to a reform in hotel security. Her rapist was never found. During the years after the incident, Francis went into depression, taking as many as 50 Darvon pills a day and rarely leaving her home in Essex Fells, New Jersey.
In 1977, Francis underwent nasal surgery and completely lost her voice. She went through several more operations and even when she got her voice back, she was forced to take vocal lessons. Although she had taken vocal lessons previously, this was the first time she had been asked to do so.
In 1978, Francis returned to the recording studio to cut an album titled Who's Happy Now? The leading recording on this album was a disco version of "Where the Boys Are". She recorded this song also in Japanese, Italian, and Spanish, as she had done before with her original 1960 version. Several songs from the Who's Happy Now? sessions were subsequently recorded in Italian, Spanish, Japanese, and German. The Spanish and German recordings became albums of their own in as Connie Francis en Español in Spain and as Was ich bin (What I Am) in Germany. All three albums and the singles culled from them were released on United Artists Records.
Francis returned to the recording studio in 1981 to cut "Comme ci, comme ça", and "I'm Me Again". The latter became the title track of a subsequent album which featured the aforementioned new songs, as well as previously unreleased material from the 1950s and 1960s. "I'm Me Again" became Francis' last single to chart on the AC charts. Both the single and the album were Francis' last original releases on MGM Records; Polydor bought the label in 1976 and discontinued it in 1982.
Another tragedy in Francis' life was the killing of her brother, George Franconero, Jr., to whom she was very close, by Mafia hitmen in 1981.
Despite this, she took up live performing again, even gracing the American Bandstand 30th Anniversary Special Episode and appearing in the town where she had been raped. Francis' newfound success was short-lived, though, as she was diagnosed with manic depression, which brought her career to a stop for a further four years, during which she was committed to a total of 17 hospitals. Francis admitted that she nearly committed suicide because these hospitals were extremely depressing.
Nevertheless, in 1984, Francis was able to write and present her published autobiography, Who's Sorry Now?, which became a New York Times bestseller. However, despite the fact that her 1982 recording "There's Still a Few Good Love Songs Left in Me" brought Francis her last notation on the country charts, several songs never made it beyond the status of being recorded. Many songs from that time, such as Francis' versions of classics such as "Speak Softly, Love" and "Break It to Me Gently," and original songs such as "Blue Orleans" are still awaiting their official first-time release.
n 1989, Connie Francis resumed her recording and performing career again. For Malaco Records, Francis recorded a double album entitled Where the Hits Are, containing re-recordings of 18 of her biggest hits, as well as six classics of yesteryear Francis had always wanted to record songs such as "Are You Lonesome Tonight?" or "Torn Between Two Lovers".
In 1992, a medley of remixed versions of her biggest German hits charted in Germany. This single, entitled "Jive, Connie", ended up among the top-ten best-selling singles of the year, which brought Connie Francis the prestigious R.SH-Gold award for the "Best Comeback of the Year" from R.SH (short for "Radio Schleswig-Holstein"), back then one of Germany's most important private radio stations. A subsequent compilation album of her biggest German hits in their original versions was also released successfully. In the wake of this, Francis recorded two duets for the German Herzklang label (a subsidiary of Sony Music Entertainment) with Peter Kraus, with whom she had already worked several times in the late 1950s and early 1960s. A German-language solo album was supposed to follow on Herzklang, but despite all songs being recorded and mixed, the album remains unreleased to this day.
In 1995, Francis recorded The Return Concert, a live album which was released on Legacy Recordings.
In 1996, With Love To Buddy, a tribute album of songs made famous by the late Buddy Holly, was released. Although this album continues to be re-released under various names on countless low-budget labels, With Love To Buddy remains Francis' last original release as of October 2011. At infrequent intervals, though, Francis releases compact disc albums and EPs in limited quantities on her own label, Concetta Records, containing previously unreleased material from her private archives.
In late December 2004, Francis headlined in Las Vegas for the first time since 1989. In March and October 2007, Francis performed to sold-out crowds at the Castro Theatre in San Francisco. She appeared in concert in Manila, the Philippines, on Valentine's Day 2008.
In 2010, she also appeared at the Las Vegas Hilton with Dionne Warwick, a show billed as "Eric Floyd's Grand Divas of Stage".