American Bandstand
American Bandstand began as a local program on WFIL-TV (now WPVI), Channel 6 in Philadelphia on October 7, 1952. Then it was hosted by Bob Horn and was called Bob Horn's Bandstand. On July 9 of 1956 the show got a new host, a clean-cut 26 year old named Dick Clark. When ABC picked the show up, it was renamed American Bandstand, airing it's first national show on August 5, 1957. The show was moved to Los Angeles in 1964. From 1963 to 1987 Bandstand was on only once a week, on Saturday.
10/7/1957 - 9/5/1987 ABC 60 minutes
4/8/1989 - 10/7/1989 Syndicated
Black & White/Color (9/9/1967)
Dick Clark's first day as host: 7/9/1956
Goes from a daily to a weekly Saturday show in Philadelphia: 9/7/1963
Broadcast from Los Angeles: Begins 2/8/1964
Produced by Anthony "Tony" Mammarella and Dick Clark
Everybody knew the names of The Regulars on Bandstand. Kenny Rossi and Arlene Sullivan, Bunny Gibson and Eddie Kelly, Pat Molittieri, Carmen Jimenz, Joyce Shafer. We followed their dance steps on TV and their personal lives in Teen magazines. We sent some 15,000 fan letters each week.

Remember, these Regulars weren't paid actors or dancers. They were real kids from Philly, and if you watched every day, you could tell who was breaking up and who was making up.

The Regulars, also known as "The Committee" were only a part of the Bandstand story. Hundreds of kids lined up each day hoping to be one of the few lucky ones who got to dance alongside the Regulars and share part of the magic that was American Bandstand.
American Bandstand brought rock 'n' roll music into millions of households. It showed Americans how to do the latest dance steps. Dick Clark, "America's Oldest Teenager" hosted the series for most of it's run.

Regular Bandstand segments were "The Spotlight Dance," "Rate-A-Record" and The "American Bandstand" Top 10 Countdown.
"The Spotlight Dance" featured 2 or more couples dancing to a softer tune. "Rate-A-Record" had teenage contestants rate and comment on a record played on the show. The "AMERICAN BANDSTAND TOP TEN" features a countdown of the day's Top 10 Hits.


American Bandstand began as a local Philadelphia show called Bandstand. It debuted on October 13, 1952 on WFIL-TV Channel 6. It became "American Bandstand" on August 5, 1957 when ABC began broadcasting the series nationwide. For its first 6 seasons, American Bandstand aired Mondays through Fridays. On September 7, 1963, it became a once-a-week series airing Saturday afternoons. A few months later, on February 8, 1964, the show itself moved from its home in Philadelphia, PA to its new home in Los Angeles. But despite the changes, American Bandstand's fans remained loyal to the series, which continued to present the latest music and dances. It even inspired another long-running dance show, Soul Train, which is still running today.

American Bandstand's long association with ABC ended on September 5, 1987. The series returned 2 weeks later on September 19, 1987 in first-run syndication and on April 8, 1989, American Bandstand made another move, this time to the USA cable network. It also featured a new host, David Hirsch. This version lasted only 6 months with the final show airing on October 7, 1989. In 1995, VH-1 began showing classic episodes of American Bandstand. These edited into 30-minute reruns featured many of the stars that the show had made famous.
****A Special Note: B.B. King was the only artist of so many that appeared that did not lip synch his songs.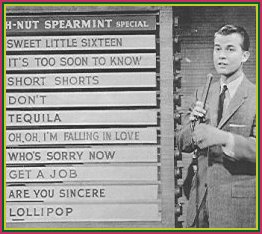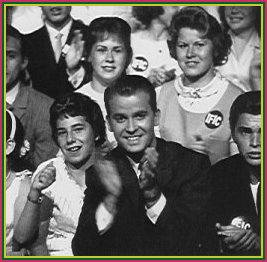 Thanks to Fifties Web and Tim's TV Show Case.