77 Sunset Strip premiered on ABC October 10, 1958 and ended its run February 26, 1964 with 206 episodes being produced.
The investigators of Stuart Bailey and Jeff Spencer operated out of very elaborate offices at 77 Sunset Strip, Hollywood California. Stuart Bailey was a very cultured OSS officer who was an expert in foreign languages. Jeff Spencer was a former government uncover agent with a degree in law. Bailey and Spencer were both Judo experts. Their cases took them to glamorous places all over the world.
At Dino's, a posh restaurant, worked a parking attendant named Kookie, who was a private detective wannabe. In the cast also was Suzanne, the French switchboard operator.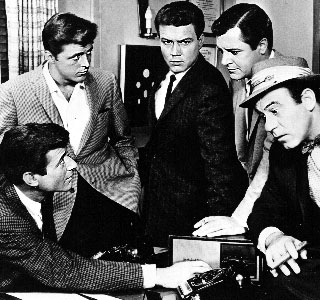 77 Sunset Strip Cast:

Stuart Bailey: Efrem Zimbalist, Jr.
Jeff Spencer: Roger Smith
Kookie: Edd Byrnes
Detective Rex Randolph: Richard Long
Suzanne Fabray: Jacqueline Beer
Roscoe: Louis Quinn
Lieutenant Gilmore: Byron Keith
J.R. Hale: Robert Logan
Hannah: Joan Staley