1961: Seven Special Songs
by David Soulsby, author of "Somewhere in the Distance"
Will You Still Love Me Tomorrow?
It's February 1961 and I'm just four months into my 15th year, John F Kennedy has a few weeks ago been sworn-in as America's 35th President ('a momentous event' according to one teacher at school, 'what with him being so young and charismatic'), and the song going the rounds in the school playground is The Shirelles' Will You Still Love Me Tomorrow?
I'm not greatly into politics (I'm thinking that'll probably come further along the road) but I can see clearly that Kennedy does have an inspiring aura of youthful confidence and energy. There's no doubting the fact that he's a world away from any politician who's gone before him. I suppose at age 15 and wanting to do exciting and different things from those of your parents and other elderly authority figures (a little rebelliousness creeping in here, perhaps!) I'm searching inside myself to find out who I am and what I can do to make my mark in the world.
Listening to Will You Still Love Me Tomorrow? has me thinking, in a strange way, about what's happening now in my life and sets me wondering what lies ahead.
It's a song about love that might be short-lived, but full of hope that a new-found happiness and feeling of well-being will carry on, if not for ever, than certainly for a very, very long time.
I'm hoping Kennedy will help change things in the world that need changing. People certainly seem to like him, but will they still feel the same way in the years ahead?
Runaway and Blue Moon
Del Shannon and The Marcels are the current acts to sing-a-long to and, with my school-friends, I can't get enough of the magnificent Runaway and we're swept along by the sheer fun of Blue Moon.
Shannon's voice is so different from any pop star we've heard before, and the music papers have fallen in love with it too. Runaway is everywhere — on the radio, on the turntable, on the TV. I look up where Shannon was born (Grand Rapids, Michigan) and then search a map of the United States to see exactly where it is. I love doing this. Mum and Dad say I should be spending more time on my studies rather than listening to rock 'n' roll and the like, but as I see it, it's educational. For sure, I'd never have known where Grand Rapids was it wasn't for that distinctive voice and the driving organ riff.
And The Marcels' Blue Moon (What have they done to a great song?' bemoans Dad) is also an inspiration. Look up at the night sky and witness an awe-inspiring sight. And it's somewhat appropriate that the sky and the stars are very much in the news this month of April. The Russians have sent a guy called Yuri Gagarin into space. It's a short flight, lasting just 108-minutes — but you can sense history is being made. Who knows where it will lead, I'm asking myself. If it wasn't for this version ofBlue Moon I'm not sure if I'd be asking the question at all.
Quarter To Three and Stand By Me
Summer's just getting into its stride and with the warmth of the sun comes the warmth of two outstanding songs. My pals and I haven't forgotten The Shirelles, Del Shannon and The Marcels, but we've got Gary US Bonds and Ben E King as out latest must-listen-to music heroes. We're adding them to our all-time favourites and telling anyone who'll listen to us that they must (we insist) rush down to the record shop and get themselves a copy. After all, it's the only decent thing to do, isn't it?
If a song really means something to you, you don't just listen to it, you cherish the vinyl it's pressed on, and you let it into your heart and once there allow it to reside for all time. If that sounds a bit too deep, well so be it. I'm only 15 after all and serious matters aren't playing much of a part in my life at the moment. Music, movies and soccer take up much of my time, so school is something of a distraction (not that I'd admit that to Mum and Dad, it wouldn't go down very well at all).
Quarter To Three is tinny and noisy and that's why we like it. It's a great follow-up to New Orleans. It's infectious, you just can't stop singing along and dancing to the beat. Stand By Me is sheer poetry: such a beautiful ballad, sung by a man with a truly-wondrous voice, managing to send a tingle down the spine no matter how many times you hear it.
There doesn't seem to be an obvious connection, but the first time I listened to Stand By Me it made somehow made me think of movie star Gary Cooper who died in May after a long battle with cancer, and from what I've read he faced the pain with tremendous courage. I'll always remember him fondly in High Noon, asking the townspeople to stand by him. Not many did, but he won the battle without them anyway. That's the mark of a true man, I guess.
Hit The Road Jack and Crying
The year is just racing on. It's mid-October and I've reached the ripe old age of 16. Sixteen! I'm just starting out as a young adult and, so I'm being told, life will never be the same again. Well, that's fine with me as long as the future is bright!
One of the attractions of being 16 is I can now officially go and see X-rated movies at the cinema (although I have to confess I've already seen a few, having convinced the people in the ticket booth that I was older than I really was: one of the advantages of being a tall guy, I suspect).
I'm staying on at school to take exams and have set my sights on being a journalist. It's something I'm determined to do, despite some people saying they don't think I've got it in me. I just shrug and say they don't really now me. I'll show them what I'm made of, I'm certain of that. One teacher at school, though, is very encouraging, which gives me a real boost.
All these thoughts are swirling around to the daily backdrop of Ray Charles and Roy Orbison. Hit The Road Jack is lively and evocative and already, in my estimation, a Ray Charles classic. I'm thinking that if anyone upsets me or disparages me, they can hit the road and not come back (now that's really telling them!).
The offering from Orbison, the big, bold baritone from Texas, bathes the senses. I'm not crying tears (well maybe just a moist drop in the corner of the eyes) when I listen to Crying, but deep down I'm feeling the heartfelt sorrow of the lyrics. They truly move me and I'm not sure I've been moved that way by a song before. Perhaps I really am on the way to becoming an adult. Only time will tell.
David Soulsby lives in Romford, Essex,
England, and is now retired after 46 years as a journalist. During his career, he worked on local and national newspapers and magazines, and in the Sixties met many of his musical heroes, including Johnny Cash, Bob Dylan, Roy Orbison, Sonny Boy Williamson, James Brown and Mel Torme. He's now freelancing as a writer and proof-reader, working from home. He's the author of Somewhere In The Distance, a novel about four friends growing up in the Sixties.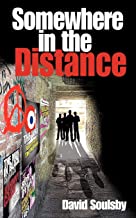 Purchase David's book "Somewhere in the Distance"